HIPAA Compliance
AHS Data Services is a certified HIPAA compliant organization. HIPAA compliance is one of our major concerns, as we handle a lot of Protected Health Information (PHI) in our day-to-day operations.
AHS has engaged third-party information security experts to design and implement the necessary controls to ensure we comply not just with HIPAA but also with international Information Security Standards (ISO 27001:5000) which is widely accepted across the world as best practices for ensuring privacy and confidentiality of all the information (Electronic and Non-Electronic).
All controls are tested quarterly to ensure the security measures are adequate to protect PHI from unauthorized access or disclosure.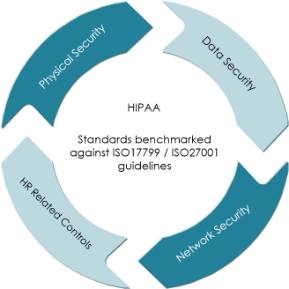 Physical Security:

Multiple layers of security

Perimeter, Reception, Guest Area
Secure Operations Floor, Server and UPS rooms

Checking of material movement
Biometric access control

Network Security:

Segregated Networks
Intrusion detection and prevention tools
Controlled Server and UPS room access
Data Security:

Unique user ID and passwords
Screen savers with passwords
External drives and media prohibited
No Removable media access
Restricted access to email and Internet

Human Resource Controls:

Background Checks
Non-Disclosure Agreements (NDA)
Training & Awareness on Information Security
Looking for something?
Use the form below to search the site:
Still not finding what you're looking for? Contact us so we can take care of it!
Stay in Touch



---